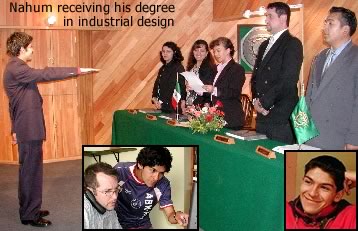 Today
Nahum
received his university degree - a big cause for celebration.
In mexico they have this system in which everyone has to do a thesis and defend it publicly before a panel of professors. Although it requires self-discipline to finish the thesis the biggest challenges for the students are the expenses and the hoops they have to jump through.
Nahum
estimates that he spent at least 700 dollars (yes, U.S. dollars) and had to make more than 30 trips to the university before he was given a date for his presentation.
At 9:55am we arrived at the "School of Architecture and Design" because we had been told they close the doors for the presentation at ten o'clock sharp. One of the professors didn't arrive till about 10:10, so everyone had a bit of a grace period. Nahum did a great job on his multimedia presentation then the panel of 5 teachers grilled him on his project. In the end they voted unanimously to pass him, not a surprise, but still a relief.
Nahum had asked us to prepare a CD with music for the celebratory luncheon. We decided to do it in mp3s so more would fit on one single disc (137 songs to be exact). As i was creating it this morning Tim did the math and figured that it probably had about 8 hours of music on it. I said, "Well that should be enough even for a mexican party."
The lunch started at 2 PM (actually it was supposed to start at 2... We got there at 2:20 and probably talked with the 4 other people who were there for a good half hour before there was enough of a critical mass of people for us to be invited to sit down) and we got home at 6 PM. In true gringo form we were among the first to leave. Nahum's dad came by at 8:30 and said they had just left the restaurant. So all in all, it was a full day's "work" being there for
Nahum
. You see why we don't have more friends in Mexico, it's just too time consuming
:-)

ha ha