We just arrived in the London area after an
amazing
time in Ethiopia. This is the first opportunity we've had to get online - and i only have 4 minutes to write - so this is going to be short.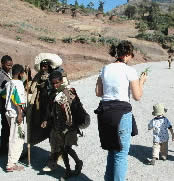 (click photo for biggie size)
Our time in Ethiopia was like something out of a
Discovery Channel
program and i can't wait to tell you more about it (soon). We're fine and no one got sick. We got thru Ethiopian customs with all 600 kilos of books and the schools there were
thrilled
with that gift.