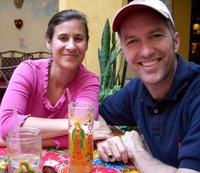 Next week we begin our first ever drive toward the U.S./Mexico border. We will be saying goodbye to our beloved Mexico, but not until after one last
hurrah
at the U2 concert in Mexico City. Some friends here got us tickets and we have friends flying in from Guatemala and the United States to go to the concert with us. What a great way to end our time here!
If you're interested in our itinerary between the time we leave here and arrive there,
click here
for all the gory details.