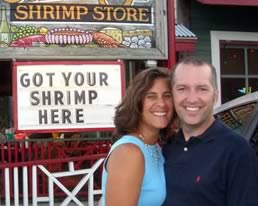 We just published our October newsletter. If you're interested in reading it,
click here
. There's also new stuff over at Annette's quotes blog,
PRE-TEXT
.
The last couple of weeks we've been in Orlando. Annette continues to work on her book. I prepare papaya, banana, oatmeal, yogurt, and blueberry smoothies and homemade caramel machiatto coffees to keep her fueled. I also help our team coordinate and maintain
ParaLideres.org
, our youth workers website, which has been totally revamped by Xavier Cabezas, our
we'd-be-dead-without-him
volunteer programmer.
Last week we hosted the Alex Chiang and family from Lima, Peru. Alex is a friend, colleague, sociologist and youth ministry speaker. The next couple of weeks we get to host Pedro and Analia Bousoño from Argentina. With all these Latin American guests, it dawns on me that my worries about losing my Spanish here in the U.S. were a waste of energy.