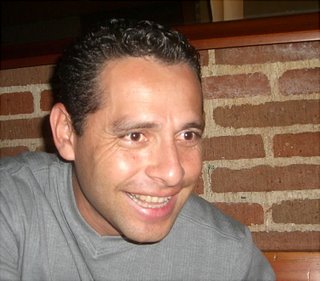 Jeffrey DeLeon
, a friend of ours from Guatemala, has a call-in radio show that is broadcast throughout the Spanish-speaking world. A youth worker for 20 years, Jeffrey told us that his palms sweat and his heart races in the studio because he never knows what kind of questions he'll face. And with good reason.
Recently a 16 year old girl from a small town in Ecuador called in and asked, "What do I do if the pastor of my church is sexually abusing me? Also he's my father." Jeffrey recommended that the girl talk to her mother or another adult with whom she had a trusting relationship. She said she'd already done that but her mother told her not to tell anyone because it would ruin her father's ministry and embarrass the family.
Jeffrey knew he was going to be in Ecuador for the
Latin Youth Ministry Summit
so he said to the girl, "I've got some good news and some bad news. The good news is there is hope. The bad news is I'm coming to Ecuador."
The Summit has been a yearly highlight for everyone involved over the past seven years, but Jeffrey had to leave a half-day early to make the trip to the town where the girl and her family lived. We prayed with him before he left and that night all of us were anxious to hear how the confrontation turned out. We expected him for dinner the next day but the evening came and went and we still hadn't heard anything from him.
The next morning at 6:20 a.m. we were waiting in line at the Quito, Ecuador airport when Jeffrey walked up behind us. We hugged him and began barraging him with questions: How had the confrontation gone? How was the girl? Was anything being done for the codependent mother? Why hadn't he made it to dinner the night before?
Jeffrey explained that the producer of his radio show had set things up so that another pastor from the same town as the girl (along with two biggie-sized deacons) accompanied Jeffrey to the church where the abusive father was preaching. After the service, they asked if they could speak with him.
Jeffrey said it had gone very well. When confronted, the father admitted his crime and dissolved into tears. He is being counseled and restored by the pastor that accompanied Jeffrey, and they have sent a replacement pastor to the church that he was leading. The girl is now living with a great couple and is receiving counseling from the female youth leader from another church in town. The restoring church will provide counseling for the mother as well.
"How wonderful that you were already planning on coming to Ecuador," I said.
Jeffrey responded, "This sort of thing happens so often. We hear of a need somewhere and I just happen to be traveling there. I'm just glad God is always several steps ahead of us."
And we're grateful for friends like Jeffrey and the other
Summit members
who pour their lives out for teenagers and young adults in Latin America.