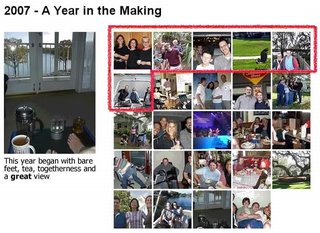 The last 10 days have been full, chock-full, of airport runs and welcoming hugs, of incredible conversations and heart-warming laughter, of suitcase packing and long goodbyes. For the first time in our year in the U.S. we filled every one of the 4 bedrooms and 6 beds here at the fantabulous apartment that has been loaned to us.
If you're the
don't tell me, show me
type then take a look at the latest photos in our
2007 - A Year in the Making
series
(click a photo if you want to read its caption)
.