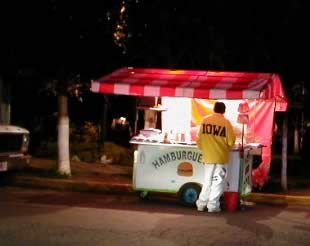 i got up early to write (i'm trying to get back into my daybook journaling after being sketchy about it the last few weeks) and tim is still in bed so i wanted to let you know what's happening in our lives. Last night but we ended up walking over to our friends hamburger and taco place,
El Localito
, and stayed for quite a while. we haven't seen our friends, who run it, for quite a while and it was nice to chat. the dad was quite cheery and jovial, which made it nicer. apparently they're talking about closing because they just arent making much money at all plus it is a lot of work. in the last few years tons of small eateries (think, holes in the wall with food) have opened up around here, many of them sell food either in the street or out of their own house, whereas our friends rent a place, pay electricity, etc so that competition is a bit
un
level.
We spent yesterday morning with one of the kids moms from church. she is the sweetest lady, a widow who supports herself selling clothing, and her son Victor is the youngest of the youth leaders at church. he's very smart and driven but treats his mom very badly - constantly correcting or criticising her. he's a choleric, she's sanguine so i'm sure there's plenty of things she does "wrong" from his point of view. she had wanted someone to "talk with him" but i think yesterday she saw that she just has to stop allowing him to treat her that way. we tried to help her see that she needs to do that not just for their relationship and for herself, but so he doesn't let himself get comfortable treating people that way.
As an example of why it's so important for parents to help their kids work on their poor "people skills", we recently heard Joel Hunter (from
Northland
) say that 80% of people who are fired, get sacked because they can't get along with people, not because of something related to how well or not they do the actual task of their job. very interesting.