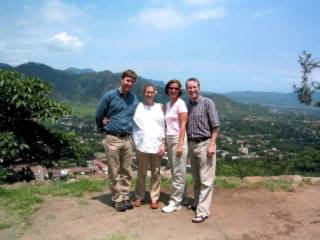 Over the 4th of July weekend two wonderful friends came to visit us. Scott & Minnemie Murphy are an fun, deep, and very
unlikely
couple... but their relationship is fun to be around... it really works!
Scott is a Carolina boy who, when we met him 12 years ago, said he was content to spend the rest of his life enjoying South Carolina's lowcountry. He is co-owner of
Naturally Outdoors
and adventure & gear center, and was always proudly pointing out the natural beauty and marvels of his corner of the world.
Minnemie
is a dyed-in-the-wool Afrikaner who loves South Africa with equal ferver and pride. Her great-grandfather was the one of the main people who struggled to get
Afrikans
accepted as a true language and not just a dialect of dutch.
They met... sparks flew... emotions churned, warmed and burned bright... they fell in and out and back in love... got married and are living happily ever after in their own unique South African/South Carolinian way.
There visit was a breathe of fresh air for Annette and me - literally! since they got us our from behind our computers and into neat little places like the stunning valley and archealogical site of
Malinalco
and hour or so from our house (the above photo was taken from the top of the ruins - Minnemie isn't really fat, she's 6 months pregnant with child #2)