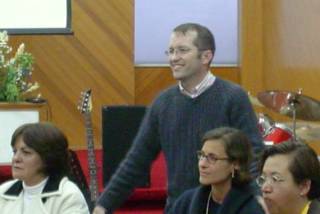 Just had to drop you a note to thank you for your prayers for the
Parents Workshops
we've been giving for the past 6 weeks.
Sunday night we had the last one and God gave us a glimpse into some good things he has done through it.
One lady said that the communication and relationship with her two teenage daughters has improved markedly. (Because they are girls who have never been involved in the youth group and rarely come to church, it is especially nice for us to know that we've been able to have a positive impact on their lives.)
Several people explained how their homework assignments led to positive conversations with their kids and others told of specific ways their parenting had been affected. For example, a mother who attends a very conservative Pentecostal church said that she realized that it was more important that her daughters have a relationship with Christ than if they wear pants, cut their hair and have earrings.
And the group showed lots of appreciation for us, which is always nice but I wanted to say, "
Uh, thanks but we know preparing a study is a snap compared to raising a child day in and day out.
"
But the thing that meant the most to me was a lady who came up to me afterwards and asked if there were plans for any follow-up activities because she was concerned about two very difficult situations in particular. When I told her that there weren't, she suggested that we create a roster of names and contact information so we could get in touch with people and that the group members could form a sort of support group for each other. I told her that was an answer to prayer because we know that we (Tim and I) don't have all the answers, but God's plan is for His people to support each other in community, so we were trying to create an environment in which that community could form.
And an unexpected plus is that we now have enough new materials for the web site that we can start a whole new section "
Resources for Parents
", not to mention that fact that we are now thoroughly sensitized to the gaping hole in resources and support for parents.
So again, thank you for supporting us - and through us being a support to families here in Toluca. In heaven we'll introduce you to them
:-)