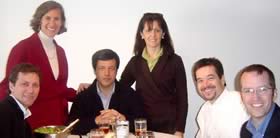 The last few days have been a bit more relaxed... at least compared to breakneck lifestyle of the first week in Buenos Aires. We've been able to make some significant progress on projects with Gerardo (our friend and colleague here.) He and his wife, Adriana took us down to the coast Sunday afternoon and we spent the night at her sister's beach apartment. That all sounds great except you have to remember it is still winter here. i don't know when my poor nose has ever been so cold, even when we were camping in Yellowstone in early September i don't know that it was as cold as the night we spent at the beach in southern Argentina. The beach house was a 4 hour drive from Buenos Aires so we took advantage of the uninterrupted time in the car to get some in-depth work done, especially on Gerardo's chapters of the youth leadership manual that I'm editing.
Back in Buenos Aires we did a bit more work and i'm really pleased with what we've accomplished. I know the finished product will be much better as a result of our work here.
Today and tomorrow we have several appointments with people, mostly social but we hope of transcendent value too. Then Friday morning our friend, Vernon arrives from Northland (
www.Northlandcc.net
) in Orlando. The main reason Vernon is coming down is network with key youth workers and trainers in Latin America.
But for now, Tim and I are off to lunch in downtown in the financial district then to the opera tonight where we'll see a show put on by St. Andrew's Scot's school. Oh, the rough life
:-)