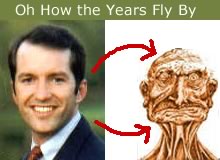 I know that it is virtually impossible to believe but today -November 16th, 2004- Timothy Kent Gulick, aka: Tim, Timber, Tin (as they say here in Latin America) turns forty!
His life has been so full that i wanted to take this occasion to remind him of that and to chronicle a bit of that fullness.
If you need a laugh or are interested in reading colorful stories laced with a bit of sentiment here and there that friends and family sent wrote about him,
click here
to go to "
40
" his official birthday blog.
If want to leave comments
(click on comments)
or to send a note yourself, join the fun
:-)
Annette