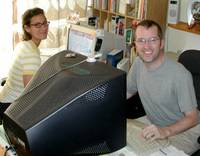 Usually we only publish here when we've done something
story-worthy
or if we took a particularly good photo that makes us look young, fit and beautiful
(hee hee)
. But today - like many days - we sat working at our computers in our 9' x 7' office.
Annette was editing 4 chapters of a Spanish youth workers' manual so that it would fit into 1 chapter's space, and I was answerring emails, chatting with colleagues and buying airline tickets for some trips in December and January. Nothing
story-worthy
and definately not a young, fit or beautiful photo moment but,
hey
, that's everyday life, right?
[photo made possible by our house guest, Evan Williams, who was bored and took our picture]