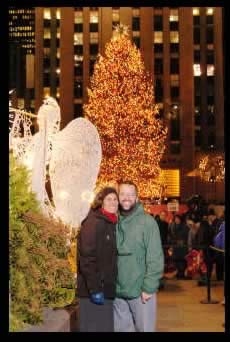 (photo taken at Rockefeller Center)
Tomorrow we leave from JFK airport for the big, non-standard, family Christmas trip to Cairo, Addis Ababa and London. I haven't been able to check email since arriving in the U.S., so i was very happy when Annette pointed out some free-to-use internet connected laptops in a CompUSA store on 5th Avenue, Manhattan. So i checked email (79 new ones) and then thought it would be just too fun to pass up the oppportunity to leave a blog note from the Big Apple.
Were off to see Macy's Christmas window displays. Bye for now.
(Click here for another NYC photo)