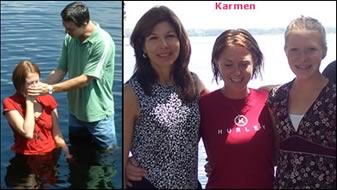 Two days ago I received
the following
from Karmen. It made my week and it made me cry for joy. She was one of my favorite kids from my youth group in Florida 15 years ago. She's been struggling for a long time and life has been hell. This is what she wrote:
It is a beautiful and maddening fury, falling in love. The way you want to know anything and everything about the one you love. You want to like the things they like, do what they do, enjoy what they enjoy.

Like some sort of love confetti floats down from the sky, making any event a celebration of your love. Every moment seems orchestrated to ignite passion within the two of you, every occurrence is so special and symbolic and meaningful. Everything makes sense.

When you are in love your heart and your brain and your soul become this all powerful chemical producing trifecta that inebriates your entire existence and even stirs the souls of perfect strangers who pass you on the street.

And though most of the times I've fallen in love I felt more confused, insecure, broken and valueless, I found out that falling in love for real, for keeps is...

Wanna' read more,
click here for the full story
.
(She's a good writer, isn't she?)