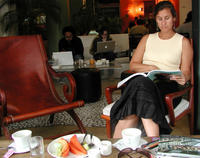 What to do on a rainy day off...it's a dilemma. Since our home is also our office, we feel a strong desire to get
out
of both on our day off. Usually the mountains and forests bordering the big industrial valley we live in are our destination
(as you can see if you go back thru our blog archives)
. But it had been raining and was in the low 50's and we didn't relish the idea of a cold muddy hike.
Annette had seen that the $6 IMAX theatre in Mexico City was showing
Coral Reefs
- her favorite. We had also read an in-flight magazine article about a cool little area of Mexico City - yes, they exist - called
la Condesa
and thought we'd check it out. The IMAX movie was beautifully filmed, well written and was narrated by Liam Neeson - what more could you ask for. La Condesa was fun and relaxing, There's overpriced but tasty coffee sold in hip restaurants everywhere (
click for photos
) and it was a great place for people watching - orthodox jewish couples walking past neo-hippie artists looking at latin american television stars walking their dogs past skater punks checking out rich girls carrying Louis Vuitton bags full of makeup, knock-off Gucci sunglasses and pirated CD's sold by grandmothers out of their open doorways.
We got caffeinated, filled our tummies with lime-doused papaya, flipped through magazines and then when the sun came out we walked around till Annette got blisters from her sandals. It was a fun day off - and out - in the world's largest city.