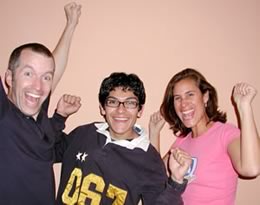 Our
latest story
is about Nahum
(middle)
and how he made us proud... very proud. Here's a blurb to tempt you to
click on over
to the full story:
Imagine you are visiting a friend at Harvard and, on a whim, knock on the door of the dean's office, talk with him for 15 minutes about your interest in a Masters degree and then have him tell you, "We need you here at Harvard."



You may also want to take a look at the latest offerings at
Annette's quotes blog
or
Tim's links blog
. And if you have children of elementary school age we've created some illustrated stories about our dog,
Spike: the accidental adventurer
. You can read the stories to your kids or click on the audio link and have
us
read it to them
(be sure to start with story #1)
.