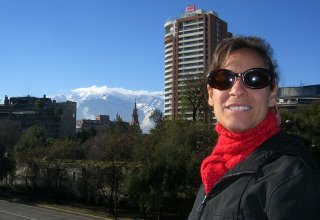 (Annette in Chile on one of the coldest days of the year
...with the Andes in the background. Click for big photo)

The Bolivian airline - notoriously unreliable - told us they
had to
cancel our flight because there weren't enough passengers to make it worth their while. After we got over the shock of their short-sighted customer service, we prayed about the situation with our colleagues here and looked for alternatives.
Since there was no space on flights from here to La Paz, Bolivia our Bolivian friends suggested we do a combination short flight followed by an overnight bus ride through the Andes. It sounded like an adventure to me. To Annette it sounded like a bad dream, but she was willing to do what it took to get to the Bolivian national youth leaders conference which we'd missed the last 3 years due to scheduling conflicts.
But last night we had to face the facts...there is no space on the flights returning from Bolivia to Chile. So we even though we could possibly get to Cochabamba, we wouldn't be able to get back in time to fly out to Guatemala for our next conference.
Although there have been moments of frustration, we're aware that many people are praying for us and this has infused the whole situation with a sense of peace. We're taking advantage of the unexpected time to
a
) spend more concentrated time with a few youth leaders here and
b
) get some medical tests done to try and find out if there is anything behind my passing out on the airplane on the way down. If you need an EKG, consider Chile...I just got one for $9!