Sweet little Jesus boy
They made you be born in a manger
Sweet little holy child
We didn't know who you were
Didn't know you'd come to save us Lord
To take our sins away
Our eyes were blind, we could not see
We didn't know who you were.
This has always been one of my favorite Christmas songs; soulful and haunting, it notices what makes this holiday so endearing—a newborn baby—but keeps unwrapping the gift, revealing our sin and our blindness and the startling antidote. We hope that this Christmas you have been reminded of who He is and what He came to do for you.
We also wish we could have put something under your tree…instead here's a virtual gift bag where we'll share how you can order what we would have given you. Sounds really cheap, but we promise…if you like coffee, you'll thank us.
Your virtual gift bag starts with the perfect coffee beans. We order them green from
Coffee Bean Corral
. Our favorite this year is Guatemala Antigua "La Flor del Café." (If we were moving to Guatemala you could very well suspect that it was for the coffee. We're not, but it would almost be worth it.)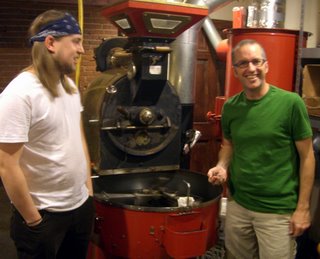 Roasting your coffee beans (click for biggie size)
If you don't know how to roast your own coffee you can order it already roasted from one of the nicest guys on earth, Eric Umenhoffer at our favorite store,
Colorado Coffee Merchants
(the Idle Truck line is particularly tasty)
The gift bag also contains a bottle of Argentine "dulce de leche" - rich, milky, natural toffee caramel. You can find it at many Latin grocery stores or order it
online
or even, we've been told, make it yourself by cooking a can of sweetened condensed milk in the can over low heat.
Finally, peruse Tim's guide to
Brewing_The_Perfect_Cup_of_Coffee.pdf
Years ago a friend of ours predicted, "With so much information available, what people are going to value is knowing what is worth their time." If that's a gift, then all of this is a good one.
Merry Christmas.