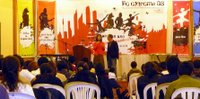 When he met us at the airport River was distracted. The main speaker, an internationally known recording artist, was supposed to arrive on the flight with us but the airline said that he hadn't boarded his flight in Madrid, Spain. River was holding out hope that he had gotten on at the last minute and it hadn't been registered in the system.
If you're interested in more details about what happened in Bolivia,
click here
to read Annette's report from Cochabamba.