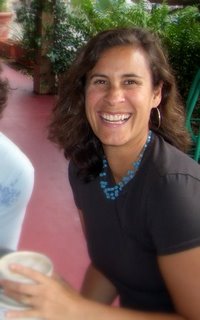 Annette recently finished the manuscript of her book....a kind of autobiography and ecclesiology mashup. If you're interested, she'll send you the 50 page manuscript by email, free of charge
;-

)
(Though she will be hoping for some comments in exchange.)
Here's what a friend wrote after reading it:
Hey Annette,
I am on a plane to New Hampshire, and have just finished reading your manuscript. It is absolutely wonderful. I began reading it, intending to be mindful of giving you specific feedback and

joining the conversation

, but to tell you the truth, I just got absolutely lost in it. And I ended up reading it purely for my own enjoyment, because I just couldn't help myself.
A by-product of her writing is an abundance of content for Annette's other blog,
pre-text
. It features quotes from sources ranging from Tolstoy and Jesus to
Paste
and WIRED magazines.
It could be her newfound appreciation for coffee, but something motivated Annette to start a photo documentary of 2007. Most people would buy a scrapbook, but since we like to travel light and bring our friends along, Annette is creating something interactive, online and free. If you're interested in seeing how it's going so far, click
here
=>
2007 - A Year in the Making
(to view its caption, click on a photo)
.